Elenydd Wilderness Hostels - Independent Hostels in Mid Wales, UK
A real escape from it all.
Hostels located in the heart of the Cambrian Mountains, the last true wilderness in Wales
These former Y.H.A. Youth Hostels are both in a remote upland region of Mid Wales, where the cry of the red kite is more common than the sound of the car.
This is a land of rocky outcrops, forestry and meandering rivers; the Tywi being the best known, where you will experience a solitude almost impossible to find elsewhere in Wales, England or the UK.
The hostels/bunkhouses are perfect for individuals, couples, family breaks and groups.
You can also camp under our incredibly dark skies. Duke of Edinburgh's Award participants are offered a concessionary camping rate.
Dolgoch has 20 beds in 3 rooms sleeping 4, 6 and 10, Ty'n Cornel sleeps 16 in two rooms of 8 and a self-contained shepherd's hut.
Both hostels have wood burning stoves for cosy, fireside evenings.
Around the hostels in the Cambrian Mountains and across North and South Wales there is a wealth of things to do - walking and hiking on remote paths, cycling on quiet roads and forest tracks, star gazing in amazingly dark skies, exploring local places of interest or just enjoying a peaceful, tech free individual, group or family break.
We're proud to have 5 star Tripadvisor ratings for both hostels.
Why not browse our Gallery to get a taste of why people love staying at our unique hostels?
We have Beds from £15 a night and Whole rooms from £50 a night






New Shepherd's Hut at Ty'n Cornel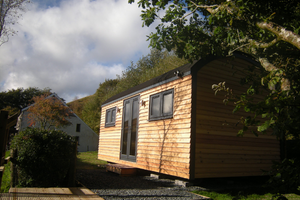 From Spring 2023 a new shepherd's hut is available at Ty'n Cornel. The hut provides self-contained accommodation complete with a shower room and a kitchen area. There is a double bed and a bed settee, so it's ideal for two or three adults or a family with two children. See "Our Hostels, Ty'n Cornel" page for more information.